This review is part of the Discover Australian Fantasy feature, running all July on The Oaken Bookcase. Please visit the Aussie Fantasy page to see the other reviews and articles and also to enter the giveaway!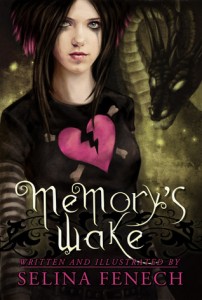 Title: Memory's Wake (Goodreads)
Author: 

 Selina Fenech (@SelinaFenech)
Rating:





Lost in a world full of monstrous fairies, a troubled sixteen year old has to find out who she is, and why her memories were stolen, before she is found by those who want her dead.
She takes the name "Memory" and knows she has just one goal – to find her way home, wherever that is. But the land she's found herself in is completely unfamiliar. No technology to be seen, and iron is banned, thanks to a pact the humans have with the magical creatures who share their pre-industrial era world. In her t-shirt and torn jeans, Memory knows she's different, even before she performs impossible magic.
As the fragments of her troubled past are pieced together, even her newly found friends question her humanity. Memory just wanted to know who she is. She never thought she'd have to question what she is.
Details
Series: Memory's Wake Trilogy #1 of 3
Genre: Young adult Fantasy
Published: Fairies and Fantasy Pty Ltd, June 2011
Pages: 320
Paper copies: Amazon.com • Amazon.co.uk • Book Depository
E-copies: Amazon.com • Amazon.co.uk • Selina Fenech.com (epub)
Review
From the very beginning of Memory's Wake, the reader is dropped into the action as Memory appears in the land of Avall with no memories of who she is or where she came from. She remembers things about another world, but it's clear from the soldiers chasing her and the monsters she encounters that this is not the world she thinks it is.  Befriended and helped by Eloryn and later by Roen and the mysterious Will, Memory travels across the land in search of a safe haven, as well as the secrets of her identity.
I loved reading Memory's Wake. The action was almost non-stop, and in the quieter sections, romance or an amazing discovery pushed the story onwards – I didn't want to stop reading. I'm not just saying this because Selina's lovely artworks are making my banners look great this month!
The first thing you'll notice when starting to read this book is that it's illustrated – Selina has included 44 black and white illustrations throughout this book, some full-page, others small drawings at the start of each chapter. They translated very well to the kindle version and helped me to visualise an already very visual story.
Memory herself is a fantastic character – with just the right amount of absolute confusion with her amnesia and disorientation in a new world, she still comes out with the occasional witty remark that often the other characters don't understand. Her magic is quite terrifying – I am looking forward to reading more about that in future stories.
The ending left me with a lot of questions – Who ends up with Roen? What's Will's story? What happened to Memory in our world? How did Thayl find her there? and plenty more. I was pleased to discover that there are two more books planned in this series so hopefully some of my burning questions will be answered!
If you love fast-moving fantasy with a touch of swoony romance, nasty fae and plenty of magic, you'll love Memory's Wake.
Warnings: Dark themes and violence.
Memory's Wake Trilogy
Hope's Reign (planned for 2012)
Providence Unveiled (in planning)
About the Author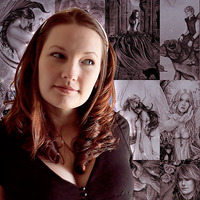 Born in 1981 to Australian and Maltese parents, Selina lives in Australia with her husband, an unnamed cat, and a lorikeet who's far too clever. During her life Selina has found ancient Roman treasure, survived cancer, had knights joust at her wedding, been mugged for doughnuts and eaten every bizarre and wonderful food put in front of her. And now, she's also written and published a novel.
It's an undeniable truth that Selina Fenech has been lost to the realms of fantasy since she first laid hands on books. Faced with overwhelming heartache that our own world wasn't so full of magic and adventure, Selina did the only thing she could. She began creating her own worlds of magic by painting and writing.
Then one day, the other children told her that books weren't cool. Selina turned away from books and writing and submerged herself in her visual art. She became a successful fantasy illustrator, supporting herself with sales of her art that now have a worldwide following. Australian readers will recognize Selina's fairy and fantasy artwork from bookmarks available in most major Australian bookstores. But the desire to tell stories remained. Because books are cool. Don't let anyone ever tell you otherwise.
You can see Selina's beautiful artwork at her website, selinafenech.com.