Jamie from The Perpetual Page-Turner has posted a series of questions to reflect on the past year. I saw Shelleyrae's answers at Book'd Out and loved the idea, so I'm joining in too!
Best In Books 2012
1. Best Book You Read In 2012? (You can break it down by genre if you want)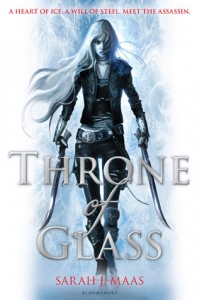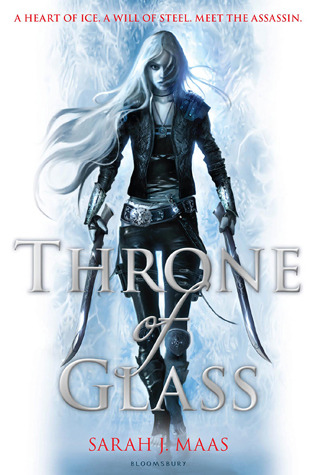 Oh gosh, that's a big question to start with! I really got into the YA fantasy this year, so for that age group it's a tie between Froi of the Exiles, Throne of Glass, Cinder and Daughter of Smoke and Bone. I loved each of those books and didn't want them to end.
For epic fantasy/romance I loved Destiny of the Light, Louise Cusack! I want to get back into this series soon.
My favourite sci-fi of the year was Great North Road, Peter F Hamilton. The book is an absolute brick at almost 1100 pages but the world is so detailed and the action is brilliant!
And finally, for middle grade I discovered and loved Foundling, DM Cornish. Such a brilliant world!
2. Book You Were Excited About & Thought You Were Going To Love More But Didn't?
Across the Universe, Beth Revis. Everyone raved about it, but I really didn't enjoy it that much. I didn't like the characters, or how they dealt with their situation.
 3. Most surprising (in a good way!) book of 2012? 
 I thought Foundling by D.M. Cornish was just going to be another middle-grade fantasy, but what a fantastic world it turned out to be! I can't wait to get back to that series!
 4. Book you recommended to people most in 2012?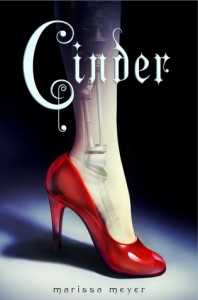 Cinder, Marissa Meyer.
 5. Best series you discovered in 2012? 
I loved the Lumatere Chronicles by Melina Marchetta! Even though I didn't really love Finnikin of the Rock as much as others did, the second and third books were brilliant and I was so sad when it was all over!
 6. Favorite new authors you discovered in 2012? 
Well, I certainly discovered a lot of new authors this year, being new to the whole book-blogging and YA scenes. I think my favourites had to be Laini Taylor (Daughter of Smoke and Bone), Marissa Meyer (Cinder), Rachel Hartman (Seraphina), Sarah J Maas (Throne of Glass) and Jay Kristoff (Stormdancer) on the YA front, and Ian Irvine (A Shadow on the Glass) and Louise Cusack (Destiny of the Light) for epic fantasy. For Sci-fi, Peter F Hamilton (Great North Road).
7. Best book that was out of your comfort zone or was a new genre for you? 
I started reading Stephen King's Dark Tower series. I don't usually read horror, but I've really enjoyed the first three books so far! There are four to go plus in-betweeners, so I hope it continues to be as epic as it already is!
 8. Most thrilling, unputdownable book in 2012? 
Divergent and Insurgent – very gripping! Also I read Cinder in one day so I guess that counts, right?
 9. Book You Read In 2012 That You Are Most Likely To Re-Read Next Year: 
Not sure, there are so many books I'm planning to read in 2013! We'll see if there's time for re-reads.
10. Favorite cover of a book you read in 2012?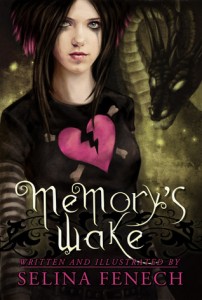 Hmm, there are lots of pretty ones, but I think my favourite is Memory's Wake, by Selina Fenech. Selina's own artwork is gorgeous – I heard she's working on a new cover for this book but I really like this one! The book is awesome too, check it out!
11. Most memorable character in 2012? 
Cinder. Also possibly Celaena, Dorian and Chaol from Throne of Glass.
 12. Most beautifully written book read in 2012? 
The Night Circus, Erin Morgenstern. While the story was a little lack-lustre, the Circus itself was filled with wonder.
13. Book that had the greatest impact on you in 2012? 
Ugh, I read The Light Between Oceans as part of our book club, and I really didn't like it. The characters were all awful and the situation so sad, I was upset about it for ages after skimming through the last third of the book. Not one for me.
 14. Book you can't believe you waited UNTIL 2012 to finally read? 
A Shadow on the Glass, Ian Irvine. It had been sitting on my bookshelf for years and I only just got around to reading it as part of my Aussie Fantasy month!
 15. Favorite Passage/Quote From A Book You Read In 2012?
Randomly, I loved this from City of Bones, Cassandra Clare:
"That's why when major badasses greet each other in movies, they don't say anything, they just nod. The nod means, 'I' am a badass, and I recognize that you, too, are a badass,' but they don't say anything because they're Wolverine and Magneto and it would mess up their vibe to explain."
 16.Shortest & Longest Book You Read In 2012?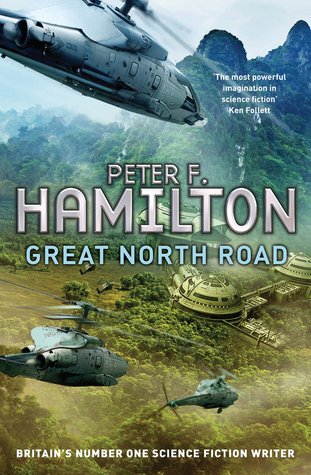 Longest: Great North Road, Peter F Hamilton, 1086 pages.
Shortest: Glitches (Cinder 0.5), Marissa Meyer, 19 pages
 17. Book That Had A Scene In It That Had You Reeling And Dying To Talk To Somebody About It? 

Seraphina was full of the most amazing musical scenes, but that sort of thing isn't easy to discuss in a review! I need to give this book to more people so I have someone to gush over it with!
18. Favorite Relationship From A Book You Read In 2012 (be it romantic, friendship, etc).
I read four books in the Gateway Chronicles by KB Hoyle this year – The Six, The Oracle, The White Thread and The Enchanted. I love the relationships between the six friends and how they are developing throughout the series so far. Some are romantic, some just great friendships, but all are well-written and leave me looking forward to the next one.
For romantic relationships, Seraphina and Kiggs have to be the sweetest and most bitter-sweet couple.
19. Favorite Book You Read in 2012 From An Author You Read Previously
Surprisingly, I really didn't read much this year from authors I had read before! Right back at the start of this year I read The Sending, by Isobelle Carmody. I've just remembered that the final book in the series, The Red Queen is coming out in 2013, squeee!
20. Best Book You Read That You Read Based SOLELY On A Recommendation From Somebody Else: 
To be honest, a lot of the books I've read this year have been from blog recommendations, but the top one I suppose must be Fire in the Sea, Mike Bartlett. I spied a recommendation for it on twitter and I really enjoyed it!
 Book Blogging/Reading Life in 2012
1. New favorite book blog you discovered in 2012?
I discovered all book blogs this year but I must give a shout-out to my girls (those who are still blogging, anyway), Hannah (Once Upon a Time) and Anya (On Starships and Dragonwings). You rock!
2. Favorite review that you wrote in 2012?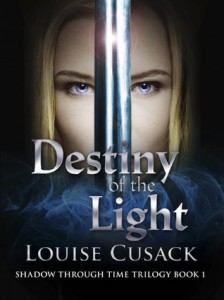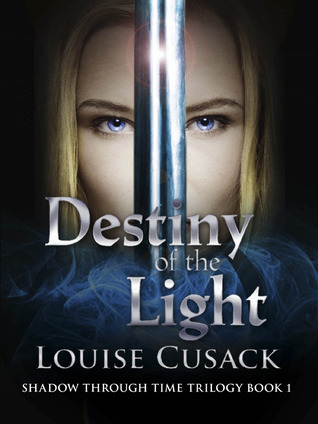 Oh… that's hard. After flicking through my review list I found Throne of Glass and Destiny of the Light. Both are great stories and I loved writing their reviews.
3. Best discussion you had on your blog?
Generally speaking, I have a few dedicated commenters but not a whole lot of discussion around here. My Big Blogger Map post after Armchair BEA got a lot of attention and over 100 pins on the map. I also had a lot of discussion around my Five for Friday: Being a Book Blogger Newbie.
4. Most thought-provoking review or discussion you read on somebody else's blog? 
I'm going to cheat and skip this question because there were quite a lot and I haven't got time to link them all!
5. Best event that you participated in (author signings, festivals, virtual events, memes, etc.)? 
Well, I took part in quite a few read-a-thons, a Bloggiesta and giveaways, but my favourite has to be my own Discover Australian Fantasy month. It was a lot of hard work, but I got to read a load of excellent books and promote some great Aussies, too. I'm hoping to do it again sometime soon in 2013.
6. Best moment of book blogging in 2012? 
When I got to meet Isobelle Carmody and she said she had heard of my blog!!! *gasp* *hand fluttering* Probably only because I'm a huge fan and pop up in her stats all the time, haha!
7. Most Popular Post This Year On Your Blog (whether it be by comments or views)? 
The Big Book Blogger Map was my most viewed, after all the giveaway posts.
8. Post You Wished Got A Little More Love?
All of them? Nah, I'm just happy that there are people out there reading my blog! 😀
9. Best bookish discover (book related sites, book stores, etc.)? 
There are so many bookish sites out there that are invaluable to blogging and book browsing in general! Goodreads, Netgalley, Edelweiss, even Pinterest has some amazing bookish stuff! I never knew there was so much book love out there on the internets!
10.  Did you complete any reading challenges or goals that you had set for yourself at the beginning of this year?
My Goodreads challenge was 100 books, and I got there just in time! I set myself a number of challenges as well, some more successfully than others. There will be a post coming on that early in January, I think.
Looking Ahead…
1. One Book You Didn't Get To In 2012 But Will Be Your Number 1 Priority in 2013? 
Top of my list right now is Scent of Magic, Maria V Snyder. To be honest there are loads of books that I wanted to read but didn't get to. I'm hoping to knock some over during the upcoming Bout of Books!
2. Book You Are Most Anticipating For 2013? 
Scarlet, Marissa Meyer and The Red Queen, Isobelle Carmody.
3. One Thing You Hope To Accomplish Or Do In Your Reading/Blogging In 2013? 
To get a bit more involved in the community. I've slacked off at the end of 2012 through being busy, but I'd love to get back into the swing of things. I'm also planning to read more of the books that I already have and have wanted to read for ages, rather than accepting review requests.