This is a guest review from Philippa of Tea, Daydreams and Fairytales. It is part of the Discover Australian Fantasy feature, running all July on The Oaken Bookcase. Please visit the Aussie Fantasy page to see the other reviews and articles and also to enter the giveaway – you could win a copy of Embrace!
Also, check out the Dream Cast for Embrace that Badass Bookie guest posted!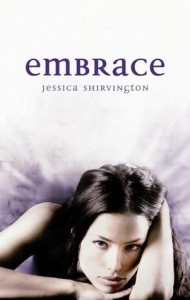 Title: Embrace (Goodreads)
Author: 

 Jessica Shirvington
Rating:





It starts with a whisper: "It's time for you to know who you are…"
Violet Eden dreads her seventeenth birthday. After all, it's hard to get too excited about the day that marks the anniversary of your mother's death. As if that wasn't enough, disturbing dreams haunt her sleep and leave her with very real injuries. There's a dark tattoo weaving its way up her arms that wasn't there before. 
Violet is determined to get some answers, but nothing could have prepared her for the truth. The guy she thought she could fall in love with has been keeping his identity a secret: he's only half-human—oh, and same goes for her.
A centuries-old battle between fallen angels and the protectors of humanity has chosen its new warrior. It's a fight Violet doesn't want, but she lives her life by two rules: don't run and don't quit. When angels seek vengeance and humans are the warriors, you could do a lot worse than betting on Violet Eden…
Details
Series: The Violet Eden Chapters #1 of 3
Genre: Young adult Paranormal
Published: Hachette Australia, October 2010. Overseas: Sourcebooks Fire, March 2012.
Pages: 400
Paper copies: Amazon.com • Amazon.co.uk • Book Depository
E-copies: Amazon.co.uk • Barnes & Noble
NB. Not available in Australia on Amazon.com for kindle but it might be in the US!
Review
I have had both good and bad experience with YA angel novels in the past.  Firstly there is the Unearthly series by Cynthia Hand with I absolutely loved, then there are books like Hush, Hush by Becca Fitzpatrick which I would quite happily burn all copies of the book and main character irritated me so much and Fallen which I put down as a DNF after struggling to get through the first 100 pages!  I had first chosen to read Embrace at the beginning of the year when choosing books for the 2012 Debut Author Challenge hosted by The Story Siren.  Much to my surprise I discovered that Jessica Shirvington is in fact a fellow Aussie and this book has been out Down Under for quite awhile now! I was so keen to read it I broke my ebook only rule and actually purchased the physical book (sadly the ebook is NOT available in Australia along with many other wonderful YA books I'm desperate to purchase!).
Embrace is the story of Violet who has never particularly enjoyed her birthdays as her mother died shortly after giving birth to her.  On her 17th birthday her mother had left her a gift including a strange letter hinting about faith and otherwordly concepts leaving her feeling quite confused.  Shortly after turning 17 Violet discovers she is part angel and has to decide whether to forgo her angel heritage or "embrace" this side of her fully.
I really liked Violet as a character for the most part of this book.  She starts off strong, self sufficient and completely relatable.  It's actually a nice change to have a girl who is fit and sporty as a central character for no reason other than she wants to be, I can't really think of another main heroine who is like that.  Through the book she gets quite ragey and spiteful which is out of character and at first I was puzzled by it then caught on that there were paranormal influences at work and this just worked for the story. Like any good heroine Violet isn't perfect, she makes mistakes, learns a lot and really grows into her new world as the story progresses while still managing to stay grounded in her normal day to day life.
Like so many Young Adult books there are 2 guys and I found both of them to be completely HOT, there is the quiet, reserved "good" guy Lincoln and then the dark mysterious "bad" boy Phoenix who both get quite a bit of air time.  Now I'm sure there will be quite a few Phoenix fans out there but I must be drawn to the strong silent type or something because I swear if she ends up with Phoenix at the end of this quartet I will have to smack her over the head for her stupidity! For a bit of fresh air in a YA book there is actually some sex which is so rare these days I actually reread the scene because I was like "did she just do that… like really did she?!!!"  Both of the guys really are more than they seem, their characters are definitely much deeper then just good and bad and this is what really made this story a great read. I personally can't wait to find out more about Phoenix's backstory in the future books.
I really enjoyed the angel mythology and premise of this world as well and can't wait to find out more, the whole "Embrace" trials to accept your Grigori powers was really interesting and I will be interested to find out even more about the myhology in the remaining books of the series. I really liked how the whole Angel and Grigori lore was new to Violet as well and the information was given out in a way that didn't make it too overwhelming – you just went on the learning journey with her as the story progressed.
Overall I found this to be a fantastic debut novel by a great Aussie author and think anyone with an interest in Angel or paranormal stories will appreciate this story!
– Philippa, Tea, Daydreams and Fairytales
The Violet Eden Chapters
About the Author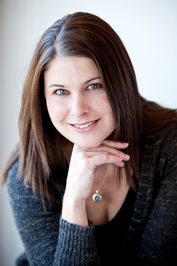 Jessica Shirvington lives in Sydney with her husband of ten years, FOXTEL presenter and former Olympic sprinter Matt Shirvington, and their two daughters. She has previously founded and run a coffee distribution company, Stella Imports, in London, and been involved in managing the restaurants Fuel Bistro, Tow Bar and MG Garage in Sydney.
She is currently a full-time mum, author and co-director in the company MPS Investments Pty Ltd.