This post is part of the Discover Australian Fantasy feature, running all July on The Oaken Bookcase. Please visit the Aussie Fantasy page to see the other reviews and articles and also to enter the giveaway – you could win a copy of Return of the Ancients!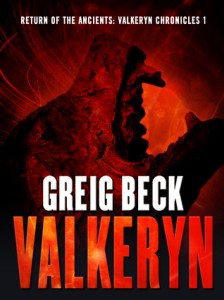 Title: Return of the Ancients (Goodreads)
Author: 

 Greig Beck (@GreigBeck)
Rating:





Return of the Ancients — the Valkeryn Chronicles Book 1, is the first of a three part series and tells the story of a future world of great beauty and great horrors, and of two races who have fought a war for an eternity. 

Arnold 'Arn' Singer an average teenager living in Illinois is thrown forward into this world and finds he is the last human alive. The land is populated with mysterious and bloodthirsty creatures — some want him dead, while others see him as their only hope for survival — a return of one of the mysterious and all powerful 'Ancients.'

Arn has to survive in a hostile world and save his new friends, and also try and unravel the mystery of the disappearance of the human race. While the two mighty kingdoms prepare for a final war, Arn must make a fateful decision. It is an epic tale of love, betrayal and war in a world both familiar and terrifying.
Details
Series: The Valkeryn Chronicles #1 of 3
Genre: Sci-fi/Fantasy for teens
Published: Momentum Books, February 2012

Paper copies: Amazon.com • Amazon.co.uk • Book Depository
E-copies: Amazon.com • Amazon.co.uk • Barnes & Noble • Momentum Books
Review
Arnold Singer, or "Arn" to his friends, is thrown forward in time after an accident during a school trip to a government scientific facility. In this strange future world, humans have been replaced by the honourable Wolfen, an evolved species of dog. The Wolfen lands are under attack from the evil Panterran, an evolved race of cats. There are plenty of other horrors in this world, but Arn's quest to find out what happened to the human race and get home again is put on hold. War is coming.
I must admit that I've been judging this book by its cover. After only scanning the blurb, I thought it looked like an adult dystopian war story. Turns out I was quite wrong, although there is war involved. Let that be a lesson to me!
Arn doesn't seem in any particular hurry to get home again, but is happy to take up warrior training with the Wolfen and fight alongside them against the Panterran invaders. The "prophecy" of the future links up with what happened in Arn's proper time rather well – I often wonder about the actual events behind ancient legends, and Greig has taken this a step further by showing us events in both time periods.
The only thing that I found a little off-putting about this story was the romance between Arn and a Wolfen girl (no spoilers…). Why would she be attracted to him so quickly? He looks like a fur-less freak to most of the Wolfen! I know, love conquers all and all that, but… they are different species. I just found it slightly uncomfortable.
That aside, I really did enjoy reading this story and loved the way each race had its rulers, its ambitious underlings and its honourable warriors. I'll look forward to the next in the series.
Return of the Ancients is a fast-paced adventure with plenty of twists and turns. I'd recommend this story for those who love reading about adventure in strange lands, preparations for war and time travel, especially younger readers.
About the Author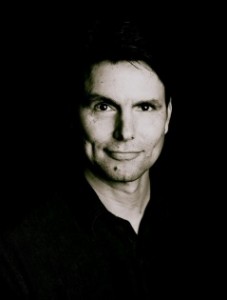 Greig Beck is an Australian author residing in Sydney with his wife, son and oversized black German Shepherd named Jess.
He grew up spending his days surfing at Bondi Beach before entering a career in Information technology which took him around the world. After completing an MBA, he was appointed both an Australasian director of a multinational software company, and tasked with setting up the USA arm of the organisation.
Today, he's still involved in IT, but spends most of his time writing… with plenty left over for surfing.
More information about Greig and his works can be found at his website, www.greigbeck.com.