This post is part of the Discover Australian Fantasy feature, running all July on The Oaken Bookcase. Please visit the Aussie Fantasy page to see the other reviews and articles and also to enter the giveaway!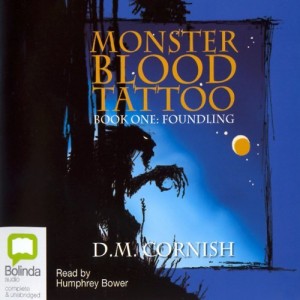 Title: Foundling (Goodreads)
Author: 

 D.M. Cornish
Rating:





Set in the world of the Half-Continent—a land of tri-corner hats and flintlock pistols—the Monster Blood Tattoo trilogy is a world of predatory monsters, chemical potions and surgically altered people.
Foundling begins the journey of Rossamund, a boy with a girl's name, who is just about to begin a dangerous life in the service of the Emperor. What starts as a simple journey is threatened by encounters with monsters—and people, who may be worse. Learning who to trust and who to fear is neither easy nor without its perils, and Rossamund must choose his path carefully.
Details
Series: Monster Blood Tattoo #1 of 3
Genre: Middle grade Fantasy
Published: Omnibus Books (Scholastic), May 2006. Also, Puffin Books 2007, Corgi Children's 2008. Audio edition by Bolinda Audio, 2006.
Pages: 434 (312 + glossary!)
Awards: Won the Young Adult fiction category of the Aurealis Awards in 2006
Paper copies: Amazon.com • Amazon.co.uk • Book Depository • Fishpond.com.au
E-copies: Amazon.co.uk • Barnes & Noble
Audio editions: Audible (Amazon.com)
Review
Foundling is the first part in the story of Rossamünd, the orphan boy with a girl's name. Teased mercilessly by the other children at Madam Opera's Estimable Marine Society for Foundling Boys and Girls, he longs to escape into a life on the vinegar seas. When he is old enough, he is offered an apprenticeship as a Lamplighter, and he sets off on a journey to the city of High Vesting. The road is long and perilous – monsters, pirates and other horrors lurk along the way.
Strange monsters are warring with the human inhabitants and those who sympathise with them are branded monster-lovers, or sedorners. There are several types of monster-fighters with special abilities, among them the skolds who fight by throwing potives and fulgars who have surgically implanted organs allowing them to generate electricity within their bodies. Now you may start to see why I found things hard to keep track of while listening to the audio version!
I read one review on Goodreads that described this story as a cross between Oliver Twist and Harry Potter, and I couldn't describe it better.  This is the tale of a humble orphan's journey of self-discovery, love, loss and exploration of a wider world. The descriptions of fantastic creatures are delightful and the human characters are unique and fascinating.
D.M. Cornish luxuriates in detailed descriptions and invents a lot of new terminology, as is evidenced by the Explicarium – the glossary that takes up almost the back third of the paper copy. There's also a series of maps of the Half-Continent, each of which has the most tiny place names – the place is enormous and very vividly detailed!
The world of the Half-Continent was created in a series of notebooks over several years, and he only started to write an actual story set in the world after a publisher accidentally saw one of these notebooks and convinced him to do it (more of that story on DM Cornish's blog). The world is incredibly detailed and feels faintly Steampunk-ish. Flintlock pistols and cannons are weapons of choice, and the "rams", or ships powered by huge muscles called "gastrines" give a rather steam-age air. Magical-type feats are scientifically created. Place names feel vaguely Germanic, but this is a world all of its own.
I loved listening to Foundling and I was a little disappointed when the ending arrived suddenly, before Rossamünd had learned any of the secrets! I have plenty of questions about the lore and the world of the Half Continent, and I'm pretty keen to pick up the next in the series, although not in audio format next time.
This book would be perfect for children of all ages, although the very small may struggle with the terminology. If you love brilliant, original fantasy worlds like those of Tolkien or C.S. Lewis and the fast-paced adventure and fantastic creatures of Harry Potter, then make sure you pick up a copy of Foundling.
A quick note on Audio books
I listened to Foundling in the audio book format from Bolinda Audio. I have only ever listened to a couple of audio books before, quite a while ago. I picked this one up at the library (actually my son did!) and decided to give it a go at work while I had some tedious data entry work to do.
I found the recording itself delightful – the narrator did a briliant job of bringing the story to life with different voices for each character. It was a nice change to hear an Aussie accent doing the reading – the previous books I'd listened to had quite a proper Stephen Fry-ish English accent, but this felt like someone was sitting next to me, reading!
The main downside with the audio book, and especially with Foundling, is that I missed out on the visual aspects of the story – maps, being able to keep track of names and places, and something I didn't realise until after I had finished listening – the hard copy has illustrations! Until I got a paper copy of the book, I had no idea how any of the names were spelled. I ended up going back to the library and borrowing out the paper version, just to check out what I had been missing and so I could write this review!
While I enjoyed listening to this story, I really don't feel it translated well to the audio book format at all. I found it irritated me to not know how names were spelled – I spent most of the time wondering what Europe's name actually was, because it sounded like Europe, but it couldn't be that, could it? This one just didn't really do it for me, but I'd be willing to give audio books another try.
The Monster Blood Tattoo series
Foundling (2006)
Lamplighter (2008)
Factotum (2010)
About the Author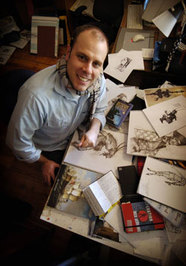 D. M. Cornish is a fantasy author and illustrator from Adelaide, South Australia. He was born in time to see the first Star Wars movie. He was five. It made him realize that worlds beyond his own were possible, and he failed to eat his popcorn. Experiences with C.S. Lewis, and later J.R.R. Tolkien, completely convinced him that other worlds existed, and that writers had a key to these worlds. But words were not yet his earliest tools for storytelling. Drawings were.
He spent most of his childhood drawing, as well as most of his teenage and adult years as well. And by age eleven he had made his first book, called "Attack from Mars." It featured Jupitans and lots and lots of drawings of space battles.
He studied illustration at the University of South Australia, where he began to compile a series of notebooks, beginning with #1 in 1993. He had read Mervyn Peake's Gormenghast novels, The Iliad, and Paul Gallico's Love of Seven Dolls. Classical ideas as well as the great desire to continue what Mervyn Peake had begun but not finished led him to delineate his own world. Hermann Hesse, Kafka and other writers convinced him there were ways to be fantastical without conforming to the generally accepted notions of fantasy. Over the next ten years he filled 23 journals with his pictures, definitions, ideas and histories of his world, the Half-Continent.
It was not until 2003 that a chance encounter with a children's publisher gave him an opportunity to develop these ideas further. Learning of his journals, she bullied him into writing a story from his world. Cornish was sent away with the task of delivering 1,000 words the following week and each week thereafter. Abandoning all other paid work, he spent the next two years propped up with one small advance after the other as his publisher tried desperately to keep him from eating his furniture.