This post is part of the Discover Australian Fantasy feature, running all July on The Oaken Bookcase. Please visit the Aussie Fantasy page to see the other reviews and articles and also to enter the giveaway!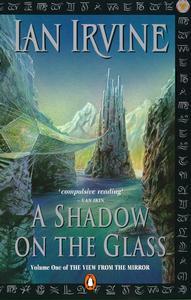 Title: A Shadow on the Glass (Goodreads)
Author: 

 Ian Irvine (@ianirvineauthor)
Rating:





Once there were three worlds, each with their own human species. Then, fleeing out of the void came a fourth species, the Charon. Desperate, on the edge of extinction, they changed the balance between the worlds forever. The Way Between the Worlds was shattered, leaving bands of Aachim, Faellem, and Charon trapped with the old humans of Santhenar.
Now Llian, a Chronicler of the Great Tales, uncovers a 3,000-year-old secret too deadly to be revealed-while Karan, a young sensitive, is compelled by honor to undertake a perilous mission.
Neither can imagine they will soon meet as hunted fugitives, snared in the machinations of immortals, the vengeance of warlords, and the magics of powerful mancers. For the swelling deluge of a millennial war is rising, terrible as a tsunami, ready to cast torrents of sorcery and devastation across the land….
Details
Series: The View from the Mirror #1 of 4
Genre: Epic Fantasy
Published: Penguin, 1998
Pages (paperback): 586
Paper copies: Amazon.com • Amazon.co.uk • Book Depository • Booktopia
E-copies: Amazon.com • Amazon.co.uk • Barnes & Noble
Audiobook copy: Amazon.com • Amazon.co.uk
Review
Karan is a young woman, a sensitive with powers of the mind, who is recruited to help Magraith break into a fortress and steal an ancient relic. All does not go to plan, however, and Magraith is captured. Karan manages to escape with the Mirror of Aachan but is pursued away and across Meldorin for weeks. Eventually she flees into the mountains, where she runs into Llian, much to her disgust.
Llian is a graduating student Chronicler who is cast out of his college after discovering a potentially dangerous secret in the great histories of the world. As he's basically a storyteller and librarian he's one of the most unlikely heroes I've ever read about in an epic fantasy, but he grows from a somewhat fanciful young man seeking his own glory to a (slightly) hardened traveller, loyal and determined to protect Karan on her journey. The other major leaders of various factions look down on him as a "miserable Zain" and I felt so sorry for him by the end of the book!
Karan and Llian are chased for weeks by at least three separate factions (possibly more!), each intent on capturing the Mirror for their own ends.
A Shadow on the Glass was Ian Irvine's debut, and this fact is reflected in the writing style – at times a little stilted and with a few quirks such as switching points of view mid-scene. Those few problems are easily overlooked by the actual magnitude of this story and I'm sure the writing style will only get better in later books.
There is plenty of history to be told, usually during stories told between characters. These story times can get a little drawn out but the rest of the book is essentially one enormous chase, with plenty of exciting escapes and near misses. I couldn't put it down for long and was very invested in the characters by the end.
I've had this book on my shelf for quite a number of years, but for some reason never got around to picking it up. I'm so glad I did though, as I really enjoyed it. I will warn those thinking of reading it that you might like to get your hands on the second book as soon as you can, since A Shadow on the Glass ends on a major cliffhanger!
If you love epic fantasy worlds with many and various characters including kick-arse women, plots, intrigue, a touch of romance and terrifying chases and escapes, then you'll enjoy A Shadow on the Glass!
Warnings: Plenty of violence and mental and physical torture.
The View from the Mirror series
About the Author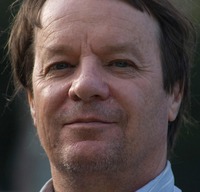 Ian Irvine is a marine scientist who has developed some of Australia's national guidelines for the protection of the oceanic environment, and still works in this field. He has written 28 novels to date, including the international bestselling 11-book fantasy sequence, The Three Worlds, an eco-thriller trilogy about catastrophic climate change, and 12 books for children and young adults.
Ian grew up in a forest and spent his entire childhood reading books and climbing trees (and frequently both at once, to the terror of his parents). He had no interest in writing as he'd always wanted to be a scientist. After much procrastination and mucking around Ian gained a Ph. D. from the University of Sydney, somehow becoming an expert in the management of contaminated sediments in the process.
Ian began the creation of his Three Worlds fantasy environment in the late 1970's, as an escape from the rigours (more correctly, horrors) of writing his doctoral thesis. Before he'd finished world-building, Ian had covered the walls of his flat , and his thesis was a year and a half late.
Science proved insufficient. Beset by creative urges that by 1987 had become irresistible, Ian got out his maps and histories and began writing the first book of what was to become his 'Darwinian' fantasy quartet, The View from the Mirror. He worked on it continually until the final volume was published in 1999, and has been a full-time writer ever since.
Ian lives with his family in the mountains of northern NSW. He is currently completing Rebellion, the second book in his new fantasy trilogy, The Tainted Realm, and thinking about the final book, Justice. In his spare time, he's also doing some initial sketching of his new Three Worlds series, which details Karan and Llian's fateful adventures after The Way Between the Worlds.