This post is part of the Discover Australian Fantasy feature, running all July on The Oaken Bookcase. Please visit the Aussie Fantasy page to see the other reviews and articles and also to enter the giveaway!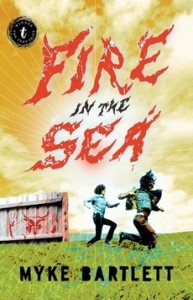 Title: Fire in the Sea (Goodreads)
Author: 

 Myke Bartlett (@mykebartlett)
Rating:





Sadie is sixteen and bored with life in Perth. It's summer, and lazing on the beach in the stifling heat with her cousins and Tom is a drag. Then something comes out of the sea.
Dark menacing forms attack an old man, leaving him for dead and Sadie wracking her brains to understand what she saw. Then there's a mysterious inheritance, a strange young man called Jake and a horned beast trampling the back yard.
Sadie finds herself caught in the middle of an ancient conflict that is nearing its final battle, a showdown that threatens to engulf Perth and all those she loves in a furious tsunami. 
Details
Series: Stand alone
Genre: YA Fantasy
Published: Text Publishing, July 25, 2012
Awards: Text Prize 2011 for Young Adult and Children's writing
Pages (paperback): 264
My copy: For review from the publisher, thanks! 
Paper copies: Text Publishing • Booktopia
E-copies: Amazon.com • Amazon.co.uk

Review
Sadie and her friends are suffering in the heat of a dry Fremantle summer when strange things start to appear out of the sea. Sadie jumps in when an old man is attacked and is unwittingly dragged into an ancient conflict. Now she must help the Guardians recover a powerful artefact before its too late and the wrath of the Gods is provoked.
It's been a while since I've had the opportunity to sit down and read a whole book in one day, but I did just that with Fire in the Sea. With just the right amount of witty Aussie vernacular interspersed with terrifying confrontations with the enemy, this book had me hooked from start to finish.
After I saw it mentioned that this book was similar to Susan Cooper's Dark is Rising sequence (one of my all-time favourites), I had to get my hands on it. I'd describe it as Over Sea, Under Stone meets Tomorrow, When the War Began  – strange happenings in a seaside city, with an Aussie twist and a fair bit more violence.
The characters were what really drew me into the story – the teenagers actually speak to each other like real people do and have (probably) realistic reactions to supernatural events. Also, as a breastfeeding mum I was delighted at the reference to it – not that babies make much of an appearance in fantasy generally speaking, but more boobs please!
There were a couple of parts that didn't quite make sense to me. One was that I didn't really get how Sadie was able to get Jake to go along with her plan so easily. I mean, Jake and his team have been doing this for centuries, surely they know what they're doing by now? Also, what happened to his medallion? Is he mortal now? At the end of the story I was left feeling a little confused as to what had happened to Jake and the rest of the squadron.
I'm not sure if more books are planned to follow on in a series from Fire in the Sea, but the premise of the Gods and their Guardians was very interesting and the whole story flowed very well. I'll be looking out for Myke Bartlett's future works no matter what world they're set in.
Warnings: Plenty of blood and guts, a bit of swearing.
About the Author
Myke Bartlett was born in Perth, and spent his first twenty years trying to escape. Like every other young Australian, he fled to London and, like most of them, didn't stay.
A trained journalist, Myke writes on politics, movies, pop culture and rock music. His work has been published in THE AGE, DUMBO FEATHER, OVERLAND, TRIPLE J MAGAZINE, METRO, CREAM MAGAZINE and THE BIG ISSUE. (And some other titles that won't fit into that very long sentence.)
He is the culture journalist for Melbourne magazine THE WEEKLY REVIEW. You can read his weekly column here.

Myke has also written and performed podcasted fiction.  His SALMON & DUSK podcasts have sometimes broken into the Top 10 US iTunes Podcast Charts. Which is pretty amazing, really.
He currently lives in Melbourne with his wife and a Boston Terrier called Moxy.