It's time for a look back over the past week, and to see what's coming up. This feature is based on the original Clock Rewinders on a Book Binge.
Last Week on the Bookcase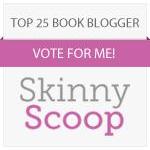 The voting for Top 25 Book Blogger for 2012 on SkinnyScoop goes until the end of August, so if you have a few moments, I'd love it if you could visit the list and vote for The Oaken Bookcase. Thanks, love you all 🙂
Last week has been all about the Bout of Books 5.0, but the Read-a-thon Curse has struck me and I've been incredibly busy. Between busy work, sick people at home and being too tired to read at night, I'm seriously behind on my goals. Oh well, I've still managed to get two books down and part-way through a third. That's not bad for a busy week I suppose.
Progress for RCCleanup: 4/22.
Reviews:
Glitch, Heather Anastasiu – YA Sci-fi dystopian romance. Its had a few negative reviews but I really rather enjoyed it.
Release blitz for Flight, Alyssa Rose Ivy – The first in a new YA Paranormal romance series. Sounds promising!
The White Thread, K.B. Hoyle (The Gateway Chronicles #3) – Review and giveaway – This teen fantasy series is a very enjoyable read! Get your entries in to win a copy (open Internationally).
Around the Community
I'm afraid I've done very little blog reading this week, despite making visiting other blogs one of my Bout of Books goals *facepalm*. I did, however, find this:
The Stephen King The Dark Tower Read-a-long – from September this year until July 2013 (possibly), this read-a-long will go through each book in Stephen King's epic Dark Tower series. I've always wanted to read these books and never got the chance, so I'm quite excited to be taking part! I actually already had a copy of the first book, The Gunslinger, on my Kindle so I'm ready to go!
Search Terms of the Week
" whats the ya paranormal book about a male character named lincoln and a girl who trains with him" – That's very specific, but… I've got nothing. Anyone know?
" i am a map nerd. jobs?" – I love this! If you found any, do let me know. By the way, there's a map shop in Brisbane city that I lust after every time I see it…
Book Loot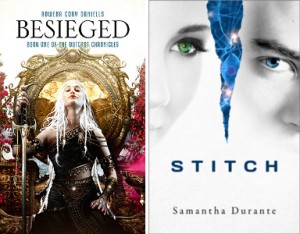 Besieged, Rowena Cory Daniells – from the author for review. Rowena is a local author so I am super-excited to read this one! Thanks!
Stitch, Samantha Durante – from the author for a blog tour. This enormous tour started on the 15th and goes right through to the end of October. For a full list of tour stops, check out Samantha's website.
Currently Reading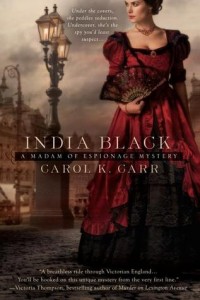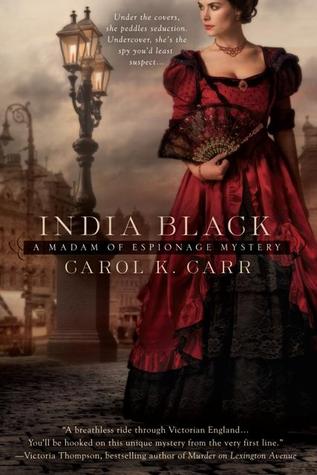 India Black, Carol K. Carr
When Sir Archibald Latham of the War Office dies from a heart attack while visiting her brothel, Madam India Black is unexpectedly thrust into a deadly game between Russian and British agents who are seeking the military secrets Latham carried.

Blackmailed into recovering the missing documents by the British spy known as French, India finds herself dodging Russian agents-and the attraction she starts to feel for the handsome conspirator.
This is our first book for the Just Hatched Book club so we'll be discussing it this Friday night. It's quite exciting so far, although a little racy!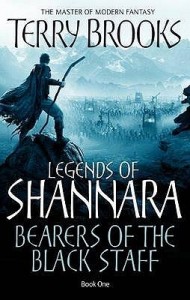 Legends of Shannara: Bearers of the Black Staff, Terry Brooks
Five hundred years have passed since the war that almost exterminated humankind. But now the cocoon of protective magic surrounding the valley has vanished. When Sider Ament, last surviving Knight of the Word, detects unknown predators stalking the valley, and Trackers find two of their own gruesomely killed, there can be no doubt: the once safe haven of generations has been laid bare…
I barely had any time to listen to this audio book last week. Hopefully I can knock the last couple of cds over soon. I'm not sure what to make of the book itself to be honest – there's a lot of history that I'm not really grasping. Perhaps I needed to catch up on some other Shannara books first.
Coming up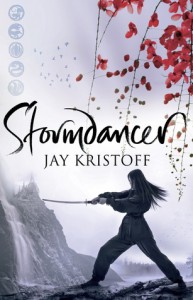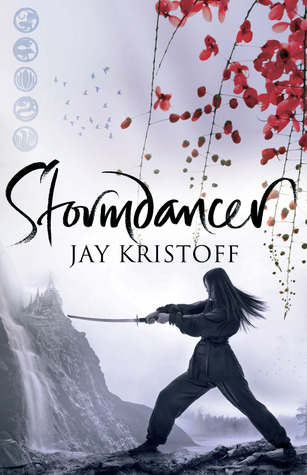 Stormdancer, Jay Kristoff
Griffins are supposed to be extinct. So when Yukiko and her warrior father Masaru are sent to capture one for the Shogun, they fear that their lives are over. Everyone knows what happens to those who fail him, no matter how hopeless the task.
But the mission proves far less impossible, and far more deadly, than anyone expects – and soon Yukiko finds herself stranded: a young woman alone in her country's last wilderness, with only a furious, crippled griffin for company. But trapped together in the forest, Yukiko and Buruu soon discover a friendship that neither of them expected.
I've been waiting for a chance to get stuck into Stormdancer for ages now – it just sounds so completely awesome, and then there was my interview with Jay… this one's definitely coming up next!