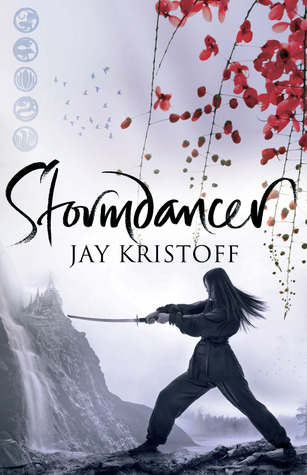 Title: Stormdancer (Goodreads)
Author: 

 Jay Kristoff (@misterkristoff)
Rating:





Griffins are supposed to be extinct. So when Yukiko and her warrior father Masaru are sent to capture one for the Shogun, they fear that their lives are over. Everyone knows what happens to those who fail him, no matter how hopeless the task.
But the mission proves far less impossible, and far more deadly, than anyone expects – and soon Yukiko finds herself stranded: a young woman alone in her country's last wilderness, with only a furious, crippled griffin for company. But trapped together in the forest, Yukiko and Buruu soon discover a friendship that neither of them expected.
Meanwhile, the country around them verges on the brink of collapse. A toxic fuel is slowly choking the land; the omnipotent, machine-powered Lotus Guild is publicly burning those they deem Impure; and the Shogun cares about nothing but his own dominion. Yukiko has always been uneasy in the shadow of power, when she learns the awful truth of what the Shogun has done, both to her country and to her own family she's determined to do something about it.
Returning to the city, Yukiko and Buruu plan to make the Shogun pay for his crimes – but what can one girl and a flightless griffin do against the might of an empire?
Details
Series: The Lotus War #1
Genre: YA Fantasy, "Japanese Steampunk"
Published: Pan Macmillan Australia, September 1, 2012; TOR UK September 13 and St. Martin's Press (US) on September 18.
Pages: 450
My copy: ARC from Pan Macmillan Aus and an e-ARC from St Martin's Press via Netgalley, thanks!
Pre-order Paper copies: Amazon.com • Amazon.co.uk • Book Depository
Pre-order E-book copies: Amazon.com • Amazon.co.uk • Barnes & Noble

Review
I'd been looking forward to getting my hands on a copy of Stormdancer for a while now, and the growing buzz around the blogs and social sites has only been adding to the hype. You know all those bloggers gushing over how much they love this book? I am totally about to join their ranks.
The land of Shima is choking under the Imperial need for the Blood Lotus plant, both as a fuel and an intoxicant that most of the population are addicted to. The Shogun sends out his most famous hunter, Masaru, along with his party and young daughter Yukiko on a perilous mission – to capture a thunder tiger, an arashitora. When their airship crashes during a storm over the mountains, Yukiko forms a strange bond with their captured thunder tiger. Together they learn the meaning of sacrifice for a greater good, as they do what they can to try to bring the Shogun's destructive rule to an end.
The world that Jay Kristoff has created in Stormdancer is so richly detailed that it felt like the descriptions were projecting right out of the pages in all their beauty or horror. The story is a delight to read, painting vivid pictures of Shima, the Iishi Mountains and the city with its opulent palace.
It's not just the settings that are amazing though – I was a little overwhelmed by all the descriptions of types of weapons and arrangements of clothing that are included in the story. I'm really not familiar with many aspects of feudal Japanese society or Samurai weaponry, but there's a helpful glossary at the back to help you tell your Nagamaki from your Tanto. The chi-powered suits worn by the councilmen and all the other steampunk-ish touches were quite fascinating as well.
The relationship between Yukiko and Buruu is just gorgeous – I loved how it developed from deep fury and distrust into true friendship and more. Those two are really the highlight of this story to me – I can't wait until the next book so we get to hear more of their banter and Buruu's shrewd insights.
The supporting characters are also fantastic! I loved the banter between Masaru, Kasumi and Akihito. I was a little wary of the Kagé sympathisers in the palace though – I kept expecting them to turn out to be working for the Shogun all along.
As it's known that Jay is not a fan of happy endings, he does like to heart out your heart and break it into many pieces – be careful where you read this, the lunch room at work is no place for sobbing!
Thankfully there's no huge cliffhanger in this book – I just need to read what's going to happen next in the story! Fans of Fantasy, Steampunk and/or Anime, get your hands on Stormdancer as soon as you can!
Warnings: A couple of sexual references. Plenty of violence. Some swearing.
Need more Jay Kristoff?
---
Giveaway
I enjoyed this book so much that I want to share the awesomeness by giving away a copy. Even though Stormdancer will be available in Australia on September 1, Book Depository is releasing on the UK date of September 13th so the prize will be a pre-ordered paperback copy of Stormdancer, to be shipped from The Book Depository on September 13. I'm not a huge fan of jumping through giveaway hoops but there will be a couple of extra entries for helping to spread the word. Good luck!
Details:
The giveaway is open internationally, as long as the Book Depository ships to your country (go here to check).
The giveaway will run until midnight on September 3.
The winner will be contacted by email and have 48 hours to respond.