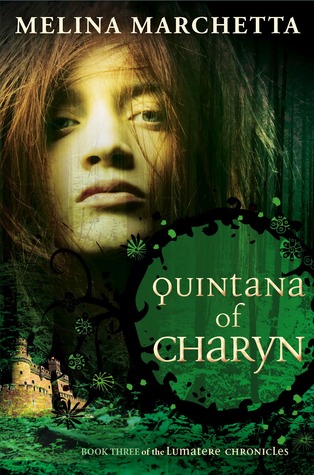 Title: Quintana of Charyn (Goodreads)
Author: 

 Melina Marchetta (@MMarchetta1)
Rating:





Separated from the girl he loves and has sworn to protect, Froi must travel through Charyn to search for Quintana, the mother of Charyn's unborn king, and protect her against those who will do anything to gain power. But what happens when loyalty to family and country conflict?
When the forces marshalled in Charyn's war gather and threaten to involve the whole of the land, including Lumatere, only Froi can set things right, with the help of those he loves.
Details
Series: Lumatere Chronicles #3 of 3
Genre: YA Fantasy
Published: Viking Australia, 26 September 2012 (will be published overseas by Candlewick on March 12, 2013)
Pages: 516

Paper copies: Amazon.com (pre-order) • Amazon.co.uk (pre-order) • Book Depository (pre-order) • Booktopia.com.au (available!)
E-copies: Amazon.com (now available!) • Bookworld.com.au (epub)
Review
Please note: This is my review for the third and final book in this series, and contains spoilers for the first book, Finnikin of the Rock, and second book, Froi of the Exiles. You may prefer to go and read those reviews instead to avoid spoiling things!
The fate of the kingdom of Charyn hangs in the balance. Froi finds himself with the priests of Trist, recovering from the attack outside Paladozza. Quintana is missing, and the entire kingdom begins the search for her and the curse-breaker she carries. Meanwhile, in the valley between Lumatere and Charyn, strange events are unfolding.
I had spied a copy of this book at my local library a couple of weeks back and thought I'd better snap it up seeing as how it wasn't due to be released for another two weeks! Quintana of Charyn launched straight into the events of the cliffhanger ending of Froi of the Exiles so I was happy that I had it ready to read right away.
With the way that everything was so dispersed at the end of Froi, it almost feels like it and Quintana are one long book that has been split into two parts. The action begins right away with each party travelling around trying to find the others, but contains all the suspense, heartbreak and laughter we loved in the previous books. This is a story of sacrifice, determination and loyalty in the face of terror and despair. Despite all the adversity and horror experienced by the people of Charyn, I was left with an overall feeling of hope and a sense that everything turned out alright in the end.
My favourite thing about this series was the gradual revelation of events to each group of people and the piecing together of the mysteries. Everything fit together so nicely at the end, and I couldn't help but admire Melina Marchetta for planning it all out so well from the start (at least, I assume that's how it happened!).
Another aspect that I really enjoyed was the adorable family parts with Jasmina. She's not in the story a whole lot but when she is, parents will glimpse their own toddler there. It's not a huge part of the story, but these small touches really bring this world and these characters leaping out of the page.
As I've said in my other reviews for this series, the characters are brilliantly written and really come alive from the page. There are so many interwoven stories all the way through – Finnikin, Isaboe and Jasmina and the Lumateran people, Froi and Quintana and the little King, Trevanion, Beatriss and Vestie, Lucian and Phaedra, Gargarin, Lirah, Ajuro and De Lancey, Tesadora and Perri and and and… I felt I knew them all so well by the end and will miss them all.
I really hope Melina Marchetta writes more about this amazing world – it feels like there is more story to be told here. I find myself wanting to know about Celie's adventures in Belegonia and what life is like in the other regions of the world. What happened to the young prince of Yutlind Sud? I'd also love to hear more about the future of both Charyn and Lumatere. No pressure, Melina!
Don't be put off by the "Young adult" classification of this series – it will be enjoyed by adults just as much as by younger readers. I even feel the relationships in this book will make it appeal to those who don't usually enjoy fantasy.
I really loved reading this series – I'd encourage everyone to get your hands on them!
Warnings: Some violence and sexual situations (thankfully all loving in this one).
The Lumatere Chronicles
What did others think of Quintana of Charyn?
 "Quintana of Charyn was perfect, unforgettable… beautiful." – 5 stars – Book Probe Reviews
"If you have read and love Finnikin of the Rock and Froi of the Exiles then you will love Quintana of Charyn just as much." – 5 bookstacks – Claire Reads
"Fall in love again, and again.  Grow up and learn, live, cry, make a bunch of life-long friends, and then do it all again with the next book." – 5 stars – Kat of Cuddlebuggery