This review is part of the Discover Australian Fantasy feature, running during July on The Oaken Bookcase. You can visit the Aussie Fantasy page for more information and to enter the giveaway while you're here!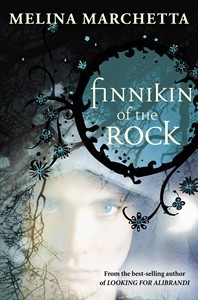 Title: Finnikin of the Rock (Goodreads)
Author:
 Melina Marchetta (@MMarchetta1)

Rating:





At the age of nine, Finnikin is warned by the gods that he must sacrifice a pound of flesh to save his kingdom. He stands on the rock of the three wonders with his friend Prince Balthazar and Balthazar's cousin, Lucian, and together they mix their blood to safeguard Lumatere. 
But all safety is shattered during the five days of the unspeakable, when the king and queen and their children are brutally murdered in the palace. An impostor seizes the throne, a curse binds all who remain inside Lumatere's walls, and those who escape are left to roam the land as exiles, dying by the thousands in fever camps.
Ten years later, Finnikin is summoned to another rock—to meet Evanjalin, a young novice with a startling claim: Balthazar, heir to the throne of Lumatere, is alive. Does Finnikin dare believe that Lumatere might one day rise united? Evanjalin is not what she seems, and the startling truth will test Finnikin's faith not only in her but in all he knows to be true about himself and his destiny.
Details
Series: Lumatere Chronicles #1 of 3
Genre: Young adult Fantasy
Published: Viking Australia, September 2008
Awards: Winner of the ABIA award 2009, Aurealis Fantasy Award 2009
Pages: 416
Paper copies: Amazon.com • Amazon.co.uk • Book Depository
E-book copies: Amazon.com • Barnes & Noble
Review
The land of Lumatere is lost, hidden behind a wall of mist. The thousands of Lumateran exiles living outside in the other kingdoms no longer have a place to call home, and so suffer starvation and terrible diseases as they wander or live in squalid camps. There's a lot of heartbreak in Finnikin of the Rock – its full of the terrors and aftermath of a terrible war, and the plight of the exiled Lumaterans is truly awful. There are refugees from real-world wars that must also suffer in a similar way – it's quite distressing at times.
Underneath it all there is an undercurrent of hope, carried around by Finnikin and later with the rest of his party as they travel across the detailed world that Marchetta has created, trying to rally their people and discover the fate of their lost king.
Each of the main characters in this story were well-described and had such detailed personalities that they practically leapt out of the pages. Even though the story is named after Finnikin, it's Evanjelin who is the star. She's fierce and  determined and gets on and does what needs to be done. The slow-burning romance between Finnikin and Evanjelin is very sweet and although I thought it might get a bit much by the end, it was really very well integrated into the story and was very fulfilling.
The storyline itself is fairly predictable but is told in such a grand way that I really enjoyed it. I did feel at times that the story dragged – there's a lot of talking about what they are going to do and not actually a whole lot of action.
I hadn't read any of Melina Marchetta's books before, but for her first attempt at epic fantasy, Finnikin of the Rock is extremely well-written. I'm really looking forward to getting stuck into the next in the series, Froi of the Exiles.
Lumatere Chronicles
About the Author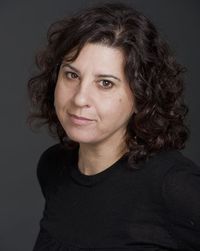 Melina Marchetta was born in Sydney, Australia.
Her first novel Looking For Alibrandi was published in 1992 and was released as a film in 2000 which she also wrote. She taught secondary school English and History for ten years during which time she released her second novel Saving Francesca followed by On the Jellicoe Road.  In 2006 she left teaching to become a full time writer. Her first fantasy novel, Finnikin of the Rock was published in 2008 and in 2010 The Piper's Son, a companion novel to Saving Francesca was released. She has written a children's book, The Gorgon in the Gully, as part of the Puffin Pocket Money series.
Her novels have been published in 17 languages.  Melina lives in Sydney where she writes full time.