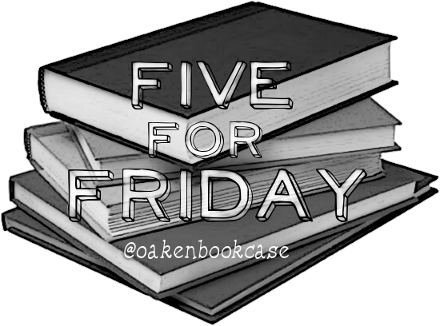 Recently, I was asked you to provide my one favourite author and one favourite book. Now, as a voracious reader, I found that very difficult to do.
I stood next to my bookshelf at home and looked and looked, but favourites are really not easy to identify – there have been so many books that I've loved over the years! My tastes have also changed during that time – I used to read almost all high fantasy but this past year I've read some brilliant young adult  and sci-fi that I probably wouldn't have bothered with ten years ago.
I do have a favourites shelf on Goodreads where I collect my recent reads but I've made a bit of an attempt to list, if not my absolute favourites, the books that I would happily re-read at any time.
Five Favourite Books
As (probably) the earliest fantasy book I remember reading, Tolkien's works have to take pride of place here. The enormous and detailed world, the arduous quest, the epic battles were all amazing well before the movie amazed us further and made me want to visit New Zealand. Despite being written over sixty years ago (over eighty for The Hobbit!), LotR is still an enjoyable story of adventure.
In fact, I think LotR might be due for a re-read quite soon.
As a child I remember reading this book over and over – I remember being enthralled by the idea of a walled garden locked away that was full of strange secrets. I'm been a fan of walled gardens and great old houses to this day! One day, when I build my own grand design, there may well be high walls with secret doors in them.
Incidentally you can download the ebook of The Secret Garden for free at Project Gutenberg, along with thousands of other royalty-free books.
I discovered Harry Potter rather late – I suspect it was because the early books weren't promoted that much in Australia (or at least, not enough for me to get involved).  When book 6 (Half-Blood Prince) was released in 2005, I was living in England and it was all over the place there. I devoured them all then and was so, so sad when I finished reading The Deathly Hallows!
I loved the films too – I thought they added an extra dimension to the stories and to be honest, I was in love with Hogwarts before I saw the films, but after, even more so.
The Liveship Traders series is set in the same world as Hobb's Assassin series, but the two stories are mostly unrelated (in fact, I think it took me a couple of books to realise they were even set in the same world). Liveships are built from wizardwood, a strange substance that allows the ship's figurehead to come alive and become a sentient being. Living ships, pirates, bickering traders, love and betrayal, dragons and sea serpents, it's all here. I loved this series, even though Robin Hobb writes heartbreaking and terrifying stories.
Another for the re-read pile!
Obernewtyn is one of those series that never seem to finish – the original book was published in 1987 and the seventh and final is due out later this year! I think it'll be another of those series that we can't bear to get to the end of. We've watched Elspeth grow from a young girl troubled by her strange abilities in an unforgiving world, to a young, determined woman setting off on her quest to save the world. How will it all end? I can't wait to find out.
I have way more favourite reads than just these five, though. Special mentions go to any books by Terry Pratchett, Anne McCaffrey, Tad Williams and any of the books on my Top 10 of 2012 list!
What's your favourite book? Can you easily say?