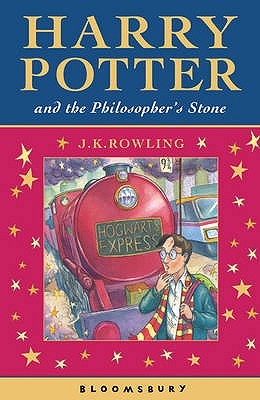 Title: Harry Potter and the Philosopher's Stone (Goodreads)
Author: 

 J.K. Rowling (website) (twitter)
Rating:





Harry Potter has no idea how famous he is. That's because he's being raised by his miserable muggle aunt and uncle who are terrified Harry will learn that he's really a wizard, just as his parents were.
But everything changes when Harry is summoned to attend Hogwarts school for witchcraft and wizardry and he begins to discover some clues about his illustrious birthright.
Details
Series: Harry Potter #1 of 7
Genre: Children's fantasy
Published: Bloomsbury, 1997
Pages: 223

Paper copies: Amazon.com • Amazon.co.uk • Book Depository
E-copies: Amazon.com • Amazon.co.uk • Barnes & Noble
Review
I first read the Harry Potter books some years ago (maybe… 2005?). Since then I've seen all the films numerous times, but I couldn't remember much about the original book itself. It was a complete delight to discover that it was just as enchanting as I vaguely remembered it being!
There's no way I could do The Philosopher's Stone justice in a proper review so I'm going to split it up into the like/not like format. I'm trying to keep in mind that this is the first in a seven-book series, and that it has only 223 pages while later books are a lot longer and have much more complex plots (for example, The Order of the Phoenix paperback has 870 pages!).
What I liked
The simplicity. A few middle-grade books I've read recently have tried to cram everything from a very detailed world into a few pages. The Philosopher's Stone gradually introduces the wizarding world to Harry, who has no previous inkling of its existence other than a few odd occurences. The plot is fairly basic and not too challenging, and the characters fairly dark or light in their alignment. That's just perfect for middle-grade readers.
Hogwarts. There's something about boarding-school books that appeals to me, even though I'm fairly sure the reality is far from glamorous. It's something to do with living with your friends 24 hours a day, eating and sleeping all together that my inner tribal-community-self likes the idea of. Hogwarts has it all – it's a castle, it's full of wizards and witches learning magic and it has plenty of mysterious secrets. Did I ever tell you about the time I visited the castle at Durham and found out it had been converted into residence halls for Durham University? I was in Hogwarts-fangirl heaven!
Meeting the characters for the first time, the antagonism between the boys and Hermione at the start and the gradual bonding throughout the story is delightful. Perhaps it's because it felt like re-uniting with old friends, but it was great to "meet" the Weasleys, Neville, Hagrid, Ron and Hermione, and of course to be introduced to Voldemort. He is certainly a very scary villain, but this is only hinted at in this first book.
What I didn't like so much
The kids get sent off into danger. I mean, it didn't help that Harry and co. dive into danger on numerous occasions – I'm not sure what makes them think that three eleven-year-olds are going to be able to save the school from some unknown assailant better than the staff of trained wizards and witches can, but I suppose that's childhood bravado for you. That doesn't excuse the fact that Dumbledore gave Harry his father's old invisibility cloak. He was mysteriously out of the way for much of the action and yet appeared just in the nick of time to save the day. It feels like Dumbledore planned it that way all along. As someone who always thought of Dumbledore as a kindly old Gandalf-esque father figure, this rubbed me up the wrong way on this re-read.
The confusion over Snape. Through the whole book, Harry and his friends are sure that he is behind everything and yet at the end it's someone totally unexpected Harry faces. Harry even finds out that Snape was trying to help him during the Quiddich match, but Snape doesn't make any more appearances after the climax and we're left wondering what that was all about. I just felt, as a couple of other Goodreads reviewers have stated, that Snape was targeted too much as the baddie and there could have been a few more hints as to who else might be involved.
Magic is very easy. I like a magic system to have consequences, to have transfer of energy of some sort. In Harry's world you just wave your wand and say a few words and bam, someone's dead or transfigured or the house is clean. It's too easy. This is the one gripe I have about the way Harry's world works.
There are plenty of critical reviews of this book and series, but basically what it boils down to is this: Despite the simple characterisation and storyline, Rowling has picked her audience very well. Even though millions of adults love it, this was meant as a children's book and I feel it is perfect for middle-grade readers to enjoy. There is plenty of darkness in later books for children to grow into.
A very enjoyable first instalment in this longer tale. I'm looking forward to my Sprout being old enough to want to read this with me!
The Harry Potter series
Harry Potter and the Philosopher's Stone (Published as Harry Potter and the Sorceror's Stone in USA) (1997)