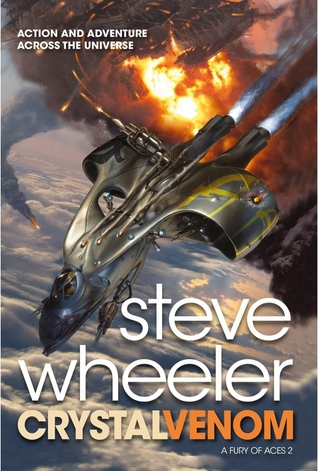 Crystal Venom (Goodreads)
Author: 

 Steve Wheeler (website)
Rating:





What will you do when the hand that nourishes you starts choking you? 
The crew of Basalt, the interstellar frigate, are major media heroes, famous beyond their wildest dreams. The various factions of the Administration, the Games Board, the Haulers and the corporate Gjomviks all want a piece of their action, and will go to any lengths to manipulate the famous ship and crew to make more money and gain more influence, even if it means savaging Basalt beyond recognition.
Details
Series: A Fury of Aces #2
Genre: Science fiction
Published: Harper Voyager, September 2013
Pages: 465

Paper copies:  Bookworld • Booktopia
E-copies: Amazon.com • Amazon.co.uk • Barnes & Noble

Please note: This review is for the second book in the Fury of Aces series and so contains spoilers for the first, Burnt Ice. You might prefer to read my review of that book instead!
---
Review
In Burnt Ice, the veteran crew of the Basalt were sent to investigate a far-away planet where they uncover a few different strange, new and rather dangerous life forms. They are effectively abandoned there by the Games Board but become instant celebrities once they limp their way back into the Sphere. Now, after a recuperation period the crew head out on a new salvage mission, along with their new crewmates, Stephine and Veg.
At the start of this book we are thrown back into the action with the crew of the Basalt without any real re-introductions. If, like me,  it's been a while since you read Burnt Ice, here's a short summary.
The Human Sphere of influence in space is controlled by the Administration. The Basalt is an Administration ship, tasked with carrying out security missions around the the Sphere. The Games Board is a group under the Administration providing reality audiovisual entertainment to the general population. They sanction conflicts and send in their monitors and producers to record everything, edit it and broadcast it to the hungry public.
As with Burnt Ice, Crystal Venom consists of a series of episodes – adventures where the Basalt is sent on various missions and runs into different kinds of baddies at the behest of the Games Board. I did wonder at several points why on earth they keep signing up for these missions as it's become rather obvious that the Games Board is pretty much out to kill them, but they continue to jump in head-first. They are being well-paid for the footage they provide, but surely the cost to their sanity and general health is starting to get a bit overwhelming?
In general, the dialogue and character interactions were better written in this one than in Burnt Ice, although still rather cold and a little awkward at times. I enjoyed reading about Marko's development and his new abilities, as well as the rest of the crew and their technical wizardry.
There also seems to be a fair bit of gratuitous sex in this one – there's very little romance in this universe. Marko's sheets are barely cold before he's jumping into bed with someone else, and despite this being the future where there may well be different etiquette for this sort of thing, it jarred a little bit.
Once again, the ACEs (Artificially Created Entities) steal the show and get up to lots of mischief – it's like having a bunch of highly intelligent children in charge of some high-tech weaponry. What could possibly go wrong?
These books are designed as a series of episodes, threaded together by plenty of amazing technical creations and strange alien life forms. The writing may not be the most brilliant I've seen but the imagination and world building is just amazing. I'll be interested to see how things develop next.
Warnings: Graphic violence, sexual references
A Fury of Aces
| | | |
| --- | --- | --- |
| | | 3: Obsidian MaulTBR 2014 |