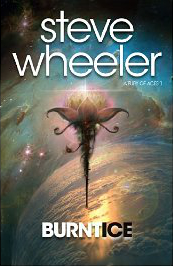 Title: Burnt Ice (Goodreads)
Author:

 Steve Wheeler
Rating:





Captain Michael Longbow and his crew of engineers, warriors and operatives are about to catch up on some recreation time on the resort world of Cygnus 5 when an investigation of some ancient underwater ruins turns into a full-scale battle. A series of missions takes them to different worlds to investigate alien tech and rogue Artificial Intelligences, during which the crew must work together and innovate to survive.
Details
Series: A Fury of Aces 1
Genre: Science Fiction
Published: HarperCollins Australia, April 1 2012
My copy: Digital ARC from NetGalley
Paper copies: Book Depository
E-copies: Amazon.com
Review
I found Burnt Ice to be an entertaining read, although it wasn't quite what I was expecting.
The marketing descriptions compare Burnt Ice to Star Wars, so I was expecting an epic space adventure. About halfway through the book I started wondering where the story was going – it didn't seem to be building towards anything, but rather felt to me like a series of shorter episodes with down time between each.
Here's a lesson for bloggers: watch what you write – Steve Wheeler saw my comments about Burnt Ice in my WWW post last week and sent me a lovely note explaining that the book is meant to be picaresque – a series of stories about a certain hero, or in this case, a group of heroes. Colour me embarrassed! He also revealed that there are nine further story sets to come after Burnt Ice!
When viewed as a series of shorter stories, Burnt Ice actually works quite well. It reads a lot like a television series – four or five episodes with a variety of outcomes. The only problem with the story being separated into episodes is the sometimes drawn-out story building between each action sequence. I didn't really need to read about each crew member's exact preparations before they set off on their mission. I realise its a good way to introduce new locations and technologies but when the Captain gives each member of the crew exact instructions, my eyes start to glaze a little.
When the action does happen, it's much faster paced and well-described. The heroes and their various bio-enhancements are pretty awesome in how they deal with situations, and it's all recorded for broadcast by the Games Board. No wonder they become celebrities!
This book contains a lot of technical descriptions – the team's every invention and creation are intricately described and I found I had to really pay attention to keep up sometimes. The creations themselves are amazing though – Artificial Created Entities created from the combined traits of various animals to make a pet with benefits? Awesome! Being able to upload yourself into a computer so that if you die, you can just grow yourself a new body? How useful! There are a huge variety of other interesting inventions and advancements that the crew of the Basalt have at their disposal.
The members of Captain Longbow's crew are likeable enough and they all have secrets that are hinted at, but not revealed. Emotional range is a little limited but that's made up for by general bad-assery. The fact that they use Aussie/Kiwi vernacular such as "mate", "have a yarn", "bugger!" and other local phrases means that the whole story felt like a very local production. This is by no means a bad thing, just different!
If a Space Opera with plenty of battles interspersed with high-tech wizardry sounds appealing to you, Burnt Ice is worth a read! I'll be watching out for the future of this series.
Warnings: Strong language and sexual references. Not as G-rated as Star Wars.