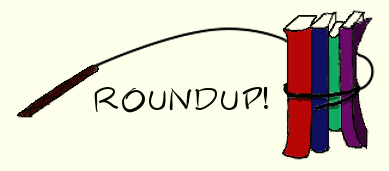 It's time for a look back at the past month on the Oaken Bookcase.
Yes, I'm still around. May has been a fairly quiet month around here – I haven't had a lot of time for reading, even though I took part in Bout of Books. I've also hit something that I haven't had in quite a while – a reading slump. Sucks!
I also joined in with the Clean Sweep ARC Challenge and although I had grand plans, I only managed to cross three and a half books off my goal list. Dreadful effort! Well, I'll be keeping that list and continuing to cross books off it, I hope.
Philippa and I managed to get one episode of Tea in the Treetops in before her little bubba arrived – yep, her little girl is here and all is well 🙂 Don't forget, you can now subscribe to the podcast in a few different ways, including iTunes, Stitcher radio and email. Check out the podcast page for more information, and as always, let us know if you're enjoying it or if you have any questions we can answer on the show for you.
Reviews for May:
Books I read but didn't review yet:
Harry Potter and the Goblet of Fire, JK Rowling – the re-read continues. The last light-hearted adventures before the start of the darker parts of the story.
Shadow of Night, Deborah Harkness – This is the sequel to A Discovery of Witches, which I quite enjoyed during last year. I'm currently over half-way through this one and struggling a little. It's not that the story isn't enjoyable, it's just… meandering all over the place. It doesn't help that I'm in a bit of a reading slump at the moment. Hopefully will finish this in the next few days.
Goal Update
Goodreads challenge – I'm currently sitting at 41 books read. My reading slump and some larger books read this month means that I'm back on schedule rather than being ahead. 
Coming up in May
The Wicked Wildfire read-a-thon starts next Friday, June 7. It rather helpfully lies on a long weekend here in Queensland, and I'll have a few extra days off around that time as well, so here's hoping for some extra reading time!
You may remember last year I held the Discover Australian Fantasy event in July, where I featured a load of books by Aussie authors. Well, I'm planning another one for this July. If you're interested in guest posting or if you have a suggestion for a book to include in the line-up, please get in touch with me as soon as possible! The help of the community made things so much easier last year.
Keep your ears open for another Tea in the Treetops episode, coming very soon, and have a fantastic June 🙂