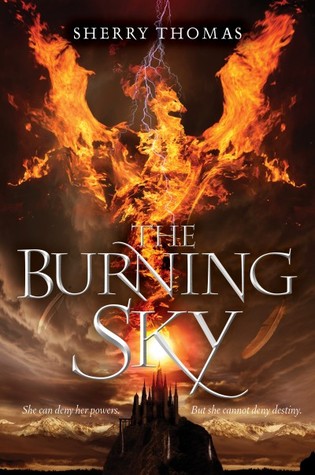 The Burning Sky (Goodreads)
Author:  Sherry Thomas (website)
Rating:





It all began with a ruined elixir and an accidental bolt of lightning…
Iolanthe Seabourne is the greatest elemental mage of her generation—or so she's being told. The one prophesied for years to be the savior of The Realm. It is her duty and destiny to face and defeat the Bane, the greatest mage tyrant the world has ever known. A suicide task for anyone let alone a sixteen-year-old girl with no training, facing a prophecy that foretells a fiery clash to the death.
Prince Titus of Elberon has sworn to protect Iolanthe at all costs but he's also a powerful mage committed to obliterating the Bane to avenge the death of his family—even if he must sacrifice both Iolanthe and himself to achieve his goal.
But Titus makes the terrifying mistake of falling in love with the girl who should have been only a means to an end. Now, with the servants of the Bane closing in, he must choose between his mission and her life.
Details
Series: The Elemental Trilogy #1
Genre: Young Adult Fantasy, in a historical setting
Published: Balzer & Bray, September 2013
Pages: 464
My copy: The publisher via Edelweiss
Paper copies:  Amazon.com • Amazon.co.uk • Book Depository
E-copies: Amazon.com • Amazon.co.uk • Barnes & Noble • Bookworld (ePub)

Review
The Burning Sky is a story about Elemental Mages set partially in Victorian England. I couldn't wait to get stuck into this one after hearing about it! I was even more delighted to discover that the English setting is none other than Eton College, just up the road from where I used to live in the UK. Any book that mentions Windsor Castle is a winner for me, and as it turns out, this is a very enjoyable story as well.
Iolanthe Seabourne is a gifted Elemental Mage. When trying to fix a light elixir, she calls down a bolt of lightning, which draws attention to her from a variety of directions. Suddenly she is The Realm's most wanted person, hunted by the mages of Atlantis and nearly captured. Much to her surprise, she is instead whisked away to the non-mage realm of mid-1800s England with Prince Titus of Elberon, the rather attractive but cold and driven sixteen-year-old ruler of the Realm. Realising her potential from visions by his seer mother, Titus hides Iolanthe within his school disguised as Archer Fairfax – a fictional student who has supposedly been on a leave of sickness. Can Iolanthe pull off the public school boy masquerade, while training her magic abilities and avoiding the notice of the agents of Atlantis?
In preparing for this review I discovered that not only is Sherry Thomas an acclaimed Romance author, but she also writes in English as her second language. The romance part I can see in the way Titus and Iolanthe interact, but wow, she really writes in English like a native speaker. This is a beautifully written story, told in the slightly formal style of classical literature – a style that fits very well with the Victorian English setting.
The story is told from both Titus' and Iolanthe's points of view, sometimes switching after just a few paragraphs. At first, this jumping between heads was quite distracting and a little confusing at times, but it draws out the tension well and gradually becomes less annoying as the story goes on.
The world building here is amazing, although not everywhere. We don't hear a lot about the Realm or Atlantis, but we do get a good sense of the interior of the magical construct of the Crucible, and also of the Eton School and surrounds (although perhaps that's because I've been there!). What wasn't made particularly clear was how the mage realms relate geographically to the non-mage world. Are they just integrated into each other as in Harry Potter, or are they actual separate countries? There was quite an information dump at the start that made the whole Atlantis situation unclear. I'm hoping that will be explained a little more as the story progresses.
My only real disappointment with the story was the magic system – magic performed by uttering a few words, with or without a wand and no energy expended. To make a spell more potent you just add "forte!" to the end of your command! As I've said before, magic without consequences or price is just not my cup of tea.
Despite my magical concerns, the story is action-packed and exciting all the way through. The romantic aspect was really quite predictable but ended up being subtle enough not to be annoying. Titus was a bit of a flirt all the way through which went against his aloof public persona a bit, but I loved Iolanthe's rebuffs and the way she gradually warmed to him again.
I'd highly recommend this story to young adult fantasy readers – while perhaps not as gritty as Throne of Glass or Graceling, The Burning Sky has the same epic feeling about it. Bring on book two!
What did others think of The Burning Sky?
"With strong world-building, a rich magical infrastructure, consistent characters, and a touch of romance, The Burning Sky is exactly the sort of book that effortlessly pushes the rest of the world to one side." – Realm of Fiction
"This beautiful story, and especially the romance, had me flailing around on my bed, seriously stifling sobs and squeals. It struck me in the heart like Cupid's arrow." – Snuggly Oranges
"Oh Titus, you adorable princeling. Let me love you." – Writer of Wrongs