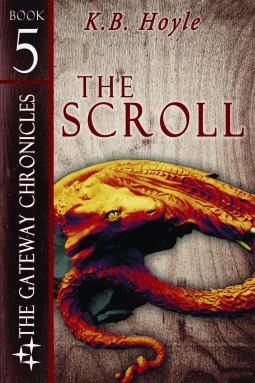 The Scroll (Goodreads)
Author:  

 K.B. Hoyle (website)
Rating:





Darcy Pennington may once have been an average teenager, but not anymore. Living each year twice, once in her world and once in Alitheia, has made her into someone who cares little for normal teenage activities. She's got more important things to do, like save the mythical, magical world of Alitheia. But this time, Darcy can't save Alitheia until she saves Tellius, the love of her life.
A window between the worlds allows Darcy to see Tellius from her home in Chicago. But, far from being reassured, she plunges into despair when she sees Tellius captured, imprisoned, and tortured. All her plans for her future life in Alitheia are put on hold as Darcy faces a singular goal: save Tellius, even if it means giving Tselloch something in return.
Details
Series: The Gateway Chronicles #5
Genre: Teen/YA Fantasy
Published: The Writer's Coffee Shop Publishing House, October 17, 2013
My copy: From the publisher via Netgalley
Paper copies: Writer's Coffee Shop
E-copies: Writer's Coffee Shop
Review
Please note: The Scroll is the fifth in this series so this review may contain spoilers for earlier books. You're welcome to check out my reviews for The Six,  The Oracle, The White Thread and The Enchanted first, if you're interested!
---
It has been almost a whole year since the last time I visited the world of Alitheia with Darcy and her friends, but I was very pleased to rejoin them in this, the penultimate book in the Gateway Chronicles series.
A while before Darcy and her friends are due to travel to summer camp and then back to the parallel world of Alitheia, Darcy is missing Tellius dreadfully. A magic mirror from Alitheia allows her to catch glimpses of her love from time to time, but when one day she looks in the mirror and sees Tellius captured and later tortured, she is desperate to get back to Alitheia as soon as possible. But there are more secrets, lies and adventures waiting for them in that other world than there ever have been before.
Some stories are told with events taking place over a few days. Not so in the Gateway Chronicles, where each instalment covers a whole year in Alitheia, as well as whatever portions of real-world events happen on either side of that. For this reason, great sections of the story (and in this book in particular) involve down-time – the six companions from our world spend a lot of time training or sitting around studying in the library, and the actual action parts are kind of spaced out. It was rather frustrating, for the characters as well as the reader – they know that Tellius is being tortured, why can't they do something about it sooner?!
If there's one thing that disappointed me slightly about this book in the series is that the characters are still repeating the same mistakes as they have previously. Secrets are being kept from Darcy and she doesn't like it, so she takes things into her own hands and wanders off into trouble again. I don't blame her, really, but I'd be more inclined (in my imagination, at least) to demand answers from someone before I went running off into danger. In any case, she manages to uncover some secrets on her own and eventually the reason for the lack of information is revealed.
Despite Darcy's (and my) impatience, the interactions between characters in these books are really very well written and make the story really enjoyable. Darcy is essentially now an early-twenty-year-old living in a seventeen year old's body, and her maturity shines through. It was really nice to see her come into her own as a mage, even if Rubidius wouldn't help with training. The other characters have matured nicely as well, except for Percy, perhaps. I did want to slap him occasionally! Tellius, as usual, is adorable and wasn't in this one enough.
The Scroll's cliffhanger ending really sets things up for the finale – I'm really looking forward to seeing what KB Hoyle could possibly have left to throw at her long-suffering characters!
Once again, I'd recommend the Gateway Chronicles series to those who enjoy fantasy aimed at a young-YA crowd.
Warnings: Violence
The Gateway Chronicles