Goals for 2013
Welcome to Angelya's Goals page!
Rather than signing up for reading challenges, during 2013 I'm setting myself some goals to achieve. I will be continuing with the Dark Tower read-along until it's complete.
Series
During 2012, I read the first book of a variety of different series. This year I'm hoping to read more of some of those series! There are a few more where sequels are being released during 2013 – I haven't included those on this list.
The Mortal Instruments, Cassandra Clare
Shadow Through Time trilogy, Louise Cusack
Monster Blood Tattoo, DM Cornish
The Witches of Elieanan, Kate Forsyth
The View from the Mirror, Ian Irvine
City of Dragons, Robin Hobb
A Song of Ice and Fire, George RR Martin
The Stephen King Dark Tower Read-a-long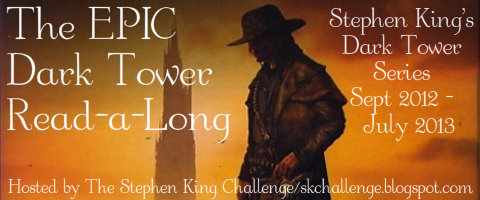 The Gunslinger (review)
The Drawing of the Three (review)
The Waste Lands (review)
Wizard and Glass
The Wind Through the Keyhole
Wolves of the Calla
Song of Susannah
The Dark Tower
Year of the Snake
My own challenge is to simply read five books involving snakes.
Master Reading List
I have collected loads of books on my shelves during the last year and haven't had nearly enough time to get through them all. This year, I'm making it a priority to read books already on my shelf. This list is not comprehensive by any means, it's just a way to help me keep track!
The Gathering Dark, Leigh Bardugo  (review)
Black Mountain, Greig Beck
The Girl of Fire and Thorns, Rae Carson
Graceling, Kristin Cashore (review)
Ready Player One, Ernest Cline
Daughter of the Dark, Louise Cusack
Glimmer in the Maelstrom, Louisa Cusack
Besieged, Rowena Cory Daniells (review)
Mage's Blood, David Hair
Living Dead in Dallas, Charlaine Harris
City of Dragons, Robin Hobb
Switched, Amanda Hocking
The Iron King, Julie Kagawa
Tigana, Guy Gavriel Kay
Delirium, Lauren Oliver
Pandemonium, Lauren Oliver
Wildwood Dancing, Juliet Marillier
A Storm of Swords (ASoIaF #3), George RR Martin (review)
The Name of the Wind, Patrick Rothfuss
Under the Never Sky, Veronica Rossi (review)
Through the Ever Night, Veronica Rossi (review)
Embrace, Jessica Shirvington
Everneath, Brodi Ashton
Pyxis, KC Neal
Exiled, MR Merrick
The Scorpio Races, Maggie Stiefvater
Gardens of the Moon (Malazan Book of the Fallen #1), Steven Erikson
Books Read in 2013
The Cloud Roads, Martha Wells (review)
The Making of The Empire Strikes Back, JW Rinzler
Scent of Magic (Healer #2), Maria V Snyder (review)
Under the Never Sky, Veronica Rossi (review)
Roar and Liv (Under the Never Sky #0.5), Veronica Rossi
The Last Dragonslayer, Jasper Fforde (review)
Through the Ever Night (Under the Never Sky #2), Veronica Rossi (review)
The Gathering Dark (The Grisha #1), Leigh Bardugo (review)
Water Witch (Fairwick Chronicles #2), Juliet Dark (Carol Goodman) (review)
Of Poseidon, Anna Banks (review)
The Witch of Duva (The Grisha #0.5), Leigh Bardugo
Bitter Greens, Kate Forsyth (review)
The Cypher (Guardians Inc #1), Julian Rosado-Machain (review)
The Eyre Affair, Jasper Fforde
The Queen's Army (Lunar Chronicles #1.5), Marissa Meyer
Star Wars: Scoundrels, Timothy Zahn (review)
The Serpent Sea (Books of the Raksura #2), Martha Wells (review)
Harry Potter and the Philosopher's Stone (#1), JK Rowling (re-read) (review)
Storm of Swords (A Song of Ice and Fire #3), George RR Martin (review)
The Wild Girl, Kate Forsyth (review)
Jack Templar and the Monster Hunter Academy (Monster Hunters #2), Jeff Gunhus (review)
Soul of Kandrith, Nicole Luiken (review)
Harry Potter and the Chamber of Secrets, JK Rowling (review)
The Immortal Rules (Blood of Eden #1), Julie Kagawa (review)
The Secret Garden, Frances Hodgson Burnett (review)
The Dirty Streets of Heaven, Tad Williams (review)
Jinx: The Wizard's Apprentice, Sage Blackwood (review)
Her Sweetest Downfall (Forever Girl #1.5), Rebecca Hamilton
The Eternity Cure (Blood of Eden #2), Julie Kagawa (review)
These Old Shades, Georgette Heyer
The Seers: New World Order, MD Kaczkowski
Harry Potter and the Prisoner of Azkaban, JK Rowling (review)
The Golem and the Jinni, Helene Wecker (review)
In The End, Alexandra Rowland (review)
The 5th Wave, Rick Yancey (review)
The River of No Return, Bee Ridgway (review)
The Lies of Locke Lamora, Scott Lynch (review)
Harry Potter and the Goblet of Fire, JK Rowling (review)
Shadow of Night, Deborah Harkness (review)
Crown of Midnight, (Throne of Glass #2), Sarah J Maas
Harry Potter and the Order of the Phoenix (#5), JK Rowling (review)
The Scrivener's Tale, Fiona McIntosh
Blind Sight (Leocardo), Ermisenda Alvarez (review)
Harry Potter and the Half-Blood Prince (#6), JK Rowling
Dragonkeeper, Carole Wilkinson
Burn Bright, Marianne de Pierres (review)
The Brides of Rollrock Island (or Sea Hearts), Margo Lanagan (review)
Long Lost Song, Stephen C Ormsby (review)
Aurora: Darwin, Amanda Bridgeman (review)
The Four Seasons of Lucy McKenzie, Kirsty Murray (review)
Black Sun Light My Way (Children of the Black Sun #2), Jo Spurrier (review)
Harry Potter and the Deathly Hallows (#7), JK Rowling
The Bone Season, Samantha Shannon (review)
The Assassin and the Underworld (Throne of Glass novella #0.3), Sarah J Maas
The Assassin and the Empire (Throne of Glass novella #0.4), Sarah J Maas
Siege and Storm (Grisha #2), Leigh Bardugo (review)
Red Seas Under Red Skies (Gentleman Bastards #2), Scott Lynch (review)
Happy Hour in Hell (Bobby Dollar #2), Tad Williams (review)
City of Ashes (Mortal Instruments #2), Cassandra Clare (review)
The Scroll (The Gateway Chronicles #5), KB Hoyle (review)
Crystal Venom, Steve Wheeler (review)
The Burning Sky, Sherry Thomas (review)
Vol'jin: Shadows of the Horde, Michael A Stackpole
The Republic of Thieves (Gentleman Bastards #3), Scott Lynch
City of Dark Magic, Magnus Flyte
Allegiant (Divergent #3), Veronica Roth
These Broken Stars, Amie Kaufman and Meagan Spooner
Pawn, Aimee Carter
Haze (The Rephaim #2), Paula Weston
Books Read in 2012